by Yvonne Tan
The "Bangsar brawl" which happened around 1 am on 13th March 2021 opened up a can of worms. The graphic videos of the assault went viral all over social media which prompted many to reinforce stereotypes of drunk, fighting Indians. In true dystopian fashion, there were many filming the incident but did not help. Most importantly, an off-duty cop not only did not call for help but was also caught on video grinning.
The victim was walking to his car when a group of men attacked both him and his friend. However, the case is once again overshadowed by the fact the victim was in Bangsar was having some drinks and that besides being stabbed with a knife, was also stabbed with a beer bottle. A viral post by @theloudasians highlighted that the stereotype of "India Pemabuk"—just like "Melayu Malas"— has its roots in our colonial past.
Back in January, Sugu pleaded guilty to a charge of possessing a sickle at Hospital Raja Permaisuri Bainun in July 2020 before making a comeback on his YouTube cooking show with his wife "Sugu Pavithra" this month. Back then, the similar reductive stereotype of "India Mabuk" was also quick to be used as well, highlighting his former job as an estate worker. What once was seen as rags to riches story of a worker who was let off during the pandemic, with him and his wife's creativity managed to create one of the most-watched cooking shows on Malaysian YouTube.
But the fact that he is "unable" to escape the stereotypes of problems that are often associated with estate workers was regularly highlighted. Many were also upset at Pavithra's decision to take him back despite the physical abuse she had received from him. It is yet again another aspect of the story people were quick to point to the stereotype of beating their wife and kids—if not getting into a fight like in the case of Bangsar brawl—as a result of drinking.

Source: Pamphlets on Toddy Drinking by Indian Labourers, in Kedah Secretariat File, S.C. 23-1350 [1]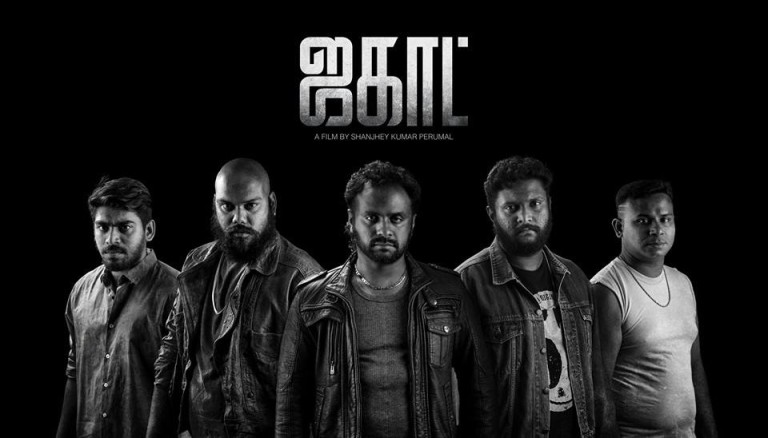 How do we put an end to this harmful discourse of "Melayu Malas", "Cina tamak/tipu" and "India mabuk minum todi"? One way is to point to today's system that has continued to uphold these problems today. Defaulting these stereotypes of character lays the fault in the victims, not the systemic problems at hand. Jagat (2015) is a film that captures these problems extraordinarily well behind the stereotypes associated with the Indian community. Bala is a relapsed drug addict, Dorai/Mexico is the reluctant gang member and Maniam a former estate worker that are father figures in Appoy's life. With not much hope from the education system nor his family unit, he finds refuge in a gang and a life of crime.
Toddy drinking was encouraged by British estate owners as a way to "pacify" their workers which were deliberately chosen as only Indian labourers through the kangani system. The proliferation of toddy shops and open consumption was allowed. It occupied the little free time the labourers had when most recreational activities were restricted, utilizing toddy drinking as a form of social control on top of added profitable source of revenue. For the Chinese, samsu was also wildly available in stores near residences besides openly accepted opium dens served the same purpose as well.
In Malaya, three types of licensed toddy shops existed – government shops, public shops and estate shops. The latter was usually managed by the estate owners or employers. Life under Japanese control was not much better as the Malayan Indian community were sent to work on the Thai "Death Railway" project. With no control over brewing liquor coupled with hunger and malnutrition, the problem ensued.
Thondar Padai was founded in Kedah and one of the most significant anti-toddy movements after WW2 founded by A.M. Samy, an estate vehicle driver. He inspired the establishment of their own Thondar Padai organisations in other plantations. They called for the abolishment of all estate toddy shops and also in the long-run, a better socioeconomic position for estate labourers [2]. It led to the first mass movement organized by estate labourers. However, as the British were favoured the role toddy drinking played, cracked down on Thondar Padai and discouraged further anti-toddy campaigns. A.M. Samy was in 1947 and was exiled to India soon after.
Large-scale displacement of Tamil estate workers in the 1980s was another devastating effect on the community with many displaced from the estates were now forced to work in low-paid, unskilled work. The British-owned plantations were converted into housing developments where former workers can no longer afford to live. There was resistance against the evictions, however, Malaysian was in favour of developers. Rural to urban migration led to the formation of working-class gangs among unemployed youth from all communities.
During Deepavali of 2020, videos of police brutality went viral although the original poster stated "this is not supposed to be seen a racism, let's be equal and see this as a police brutality" although all suspects arrested were Indian. This time, there was some recognition from netizens that there was obvious racial profiling by the police force. Many asked why the family members of the men were not informed of their arrest, opening up the conversation on the practice of chain remand. It meant a person could be rearrested to overcome the limitations of the Criminal Procedure Code. Despite court orders for them to be released with the chain remand, PDRM still refused to release the suspects [3].
Swimming against the currents of racial profiling, police brutality, failing education systems and colonialism, the last thing the Malaysian Indian community needs are stereotypes. Stereotypes are but easy but misinformed rationalizations. There is always a deeper underlying problem at hand, and if we never begin to change the conditions, they will continue to happen as "ethnic categories…have been and continue to be manipulated by colonial and postcolonial elites in order to further their economic interests at the expense of the working class of all ethnic groups." [4].
References
[1] Krishnan, Parameswari, Azharudin Mohd Dali, Abdullah Zakaria Ghazali, and Shritharan Subramanian. "The history of toddy drinking and its effects on Indian labourers in colonial Malaya, 1900–1957." Asian Journal of Social Science 42, no. 3-4 (2014): 321-382, p. 349.
[2] Ibid., p. 371.
[3] https://sea.mashable.com/social-good/11409/malaysian-indians-are-dying-at-a-higher-rate-in-prisons-we-need-to-talk-about-it
[4] Andrew Willford, Cage of freedom: Tamil identity and the ethnic fetish in Malaysia. University of Michigan Press, 2006, p. 293.
[5] Featured Image: The Guardian and WORLD OF BUZZ, Saying "India Mabuk" Doesn't Help Anyone, It Probably Just Makes You A Racist, https://worldofbuzz.com/saying-india-mabuk-doesnt-help-anyone-it-probably-just-makes-you-a-racist/