<![CDATA[
Translated from "Seorang Muslim, Seorang Lutheran", written by Faisal Tehrani. Originally published by Malaysiakini on 27 January 2014. Translation by Yana Rizal. Awaiting the break of dawn, for the train to depart for Copenhagen at 9:27am, on coach 72 seat 22, Mads Kjoergard (pronounced as "Mas", with a silent D) urged me not to sleep. "You have your morning prayers don't you?" this Lutheran reminded me. "Yes that's compulsory, but not staying up at night. The Aarhus seagulls sleep too, don't they?" I quipped. He shook his head and laughed, "They fly from Greenland, through the ice and land in Jutland. When it's time to go home, I'll accompany you, Asian seagull. We may only meet again in another 11 years!" I knew Mads Kjoergard from almost 30 years ago. It started as a pen pal program initiated by my English teacher at Jalan Dato Palembang Primary School. The late Mr Joseph Savari Naidu paired me up with a Danish kid to improve my English. The rest of them had young Australians, Britons, Americans, or Canadians, but I had a rare friend. Many were disconnected along the way. Of course it was hard for a twelve-year-old to write a letter every month. But we managed to keep the friendship beyond three decades. Since the era of post offices to cyber-cafes, to laptops and now Android gadgets, thanks to Facebook, a Muslim and a Lutheran could now continue this great friendship. We travelled together in Phuket eleven years ago, each of us still looking for a suitable academic field back then. This time we meet again, united by a single word; humanity. Mads Kjoergard is now a lecturer at Aarhus University, Denmark in the field of 17th and 18th century French philosophy. He has become an incredibly handsome ginger-blond Scandinavian; short stubble and spiky hair, pale skin with dimples and blue-green eyes. He still wears a size 30 pants, while I have doubled. He dreamed of marrying an Asian woman; "Malay, Thai, or Japanese." But his fate was with an Estonian woman who also struggled with French history, specialising in the French Revolution.
8 Years After the Cartoon Incident A week ago after a 7-hour flight from Kuala Lumpur, a 10 hour transit in Dubai and another 7 hour flight to Copenhagen; fatigued, drowsy, and listless, I missed the express train and had to get on the cross-country coach for 5 hours; I arrived in Mads's port city of freezing winds that stabbed through your spine at below zero. Now as academics we can work together, and I was an associate member of the "Negotiating Human Rights" group, based in Aarhus. Aarhus University was celebrated since 1997 when it produced two Nobel laureates, Professor Jens Christian Skou in chemistry and Professor Dale T Mortensen who happened to teach at the university when he received the award in 2010. Since then great scholars have come to call, among others the literary theorist Terry Eagleton, and sociologist Robert Putnam; both of whom were visiting scholars. On Thursday, I lectured on "Malay Orature and Human Rights" as my contribution to the group in a small seminar. This latest project is also to fill in my FRGS research grant at the National University of Malaysia (UKM). Between the cups of bitter hot coffee, the cool breeze that clenched on your nerves, carrot cake and chocolate croissant we would talk about human rights. This group comprises of multidisciplinary scholars and in spite of the variances, we had to link our fields of expertise with human rights. Last Saturday, when Mads Kjoergard accompanied me to find books in the middle of Aarhus and to change some kroner in Banegardspladsen, I asked about the development of Islam since 2005, when twelve cartoons of the Prophet Muhammad were published in the Jyllands-Posten magazine. "About a year ago, an extremist group organized an anti-Islamic demonstration in this city of Aarhus. Very provocative. When they, the right-wingers chose our peaceful city; many here were angered. Muslims are a small minority in Aarhus. There was a counter-demonstration to protest against the instigators." "They targeted more than a thousand demonstrators from all over Europe and Scandinavia. The ones who came were less than a hundred, and they were clamouring among themselves to claim the right to freely condemn the dignity and honour of other religions." Mads began. He gazed at me, I gazed back. In my eyes there was Mads, but slowly it turned into the faces right-wing extremists – radical cultural relativists – in my homeland, these are the mighty and bound Muslims, forced by a narrow interpretation of religion. "Human rights is used to suppress human rights." I mused, and then I remembered the words of Professor Sten Schaumburg Muller in our morning chat, "Yes, human rights in Europe and America is practiced differently, tell us how you want to do it but don't use rights as an excuse to deny the rights of others, that is no longer human rights."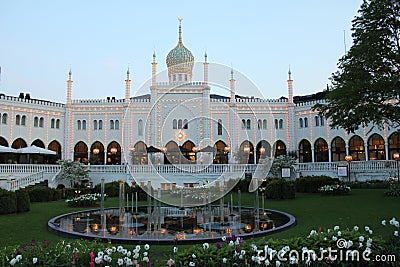 Not Because of the Mosque's Domes Since the madness of the cartoon incident insulting the Prophet Muhammad in 2005, Copenhagen will build two more mosques in the city. One for the Sunni community, and the other for the Shiites. Since all 80 thousand of the Shiites are not considered Muslims by a small group of intolerant Salafis, they too want their own mosque complete with minarets and domes. There are protests against the construction of these mosques. The Sunni mosque is feared to become the new hotbed of Salafis who are estranged to the local culture, not to mention its Qatari funding, further fuelling the prejudices of the Danish public. While the Shiite mosque is protested by atheist Iranian immigrants and refugees who feel that there is an intervention from Qom. The Sunni mosque located in Nørrebroitu will have a 20 meter tower. The complex is 6,800 square meters in total, covering a domed prayer area, a restaurant, a theatre, classes, offices, a service center for the elderly, a kindergarten, and a children's playground. The frustrations of the Danish society are not for the domes or the minarets. I myself pointed out to Mads that without these domes and minarets, a mosque can still function. In fact, a mosque should blend in its local culture so as not to be suspicious. Mads looked at me, "If the domes and minarets are not the signs of Islam, then what is the sign of Islam?" I insisted through a hoarse voice against the cold wind blowing in my face, "The sign of Islam is in its moral values. Prophet Muhammad was sent to reinforce moral perfection." "He came not to give exclusive rights to Muslims, that just by uttering the Shahadah they are now guaranteed security in the afterlife and attain heaven while the rest are condemned to hell." But Mads interjected, "The suspicion is also founded because the former emir of Qatar, Hamad bin Khalifa al-Thani funds it." I know it's a large sum, 150 million kroner. This opens up a multitude of questions, among others whether the Islam that will be taught in this mosque is Salafi Islam, thus reaffirming the cultural relativism that will widen the gap between the Danes and their strong Lutheran-Viking identity, and the Muslims who want to be more Arabic or Turkish than Muslim. The Danish concern is the Dansk Islamisk Råd (Danish Islamic Council), that is linked to the Muslim Brotherhood who still read Sayyid Qutb in the land of Tivoli.
Repulsion Becomes Anger The same thing has happened in the Shiite community, where the Imam Ali mosque located in Vibevej will have two 32-meter-high towers with an area of 2,000 square meters. Rumor has it that it is financed by the Iranian government, although it is khumus funds (Islamic tax) channelled through the World Ahlul Bayt Foundation. Although the Shiites are known for their indigenization skills (absorbing local culture in their way of life), that ability is now weakening as they are too busy competing with the Salafis in a show of who is more Islamic, in their towers, domes, robes and rosary beads. The teachings of the Prophet's lineage that is their pride, are embedded in the Mafatih Jinan that they lull themselves to sleep with, but have never emerged in their daily lives. The thorn in the wounds is not the mosque nor the Prophet's cartoons, but it is the attitude of the Muslims be it Sunni or Shiite who refuse to interact or initiate the 3A formula of adaptation, accommodation and acculturation to their new place. They forget they are no longer from Iraq, Syria, Egypt, Lebanon or Iran. That is now reduced to a place of birth. Islam is a religion, but it must live and breathe in various environments using the 3A method. This is the special feature of Islam, which has been killed over a hundred years ago by the Wahhabis and has since spread around the world. Worse still is when Muslims clash, fight and wrestle (and there are shooting incidents) among fellow Sunnis (eg between an Arab and a Turk, or Somali) or between Sunni and Shiite (aggravated by the crisis in Syria). The consequences are fatal, and the Danish public are in disgust, loathing, disturbed and eventually angered. Cartoons insulting the Prophet Muhammad transgress the Danish culture of humour, it is a manifestation of sentiments on their side. It is not about how left or middle-leaning Helle Thorning-Schmidt is, nor how right or extreme Carl Christian Ebbesen is. Both are Danish leaders who must politicise and debate the issue of Islam and its followers for their survival. This is about Denmark, a welfare state that provides doles for the unemployed. Now, the community in Denmark is asking why their taxes should be taken away from them to finance these live leeches like the Muslims in Denmark who are ungrateful? Muslims are treated equally and are given equal welfare but then they shit everywhere with their quarrels and wrestling and fighting among themselves and blaming each other. As a result, the governments in Scandinavian countries are left confounded because it is clear that the Muslims they've helped have failed to maintain unity, love to fight and do not appreciate the kindness, opportunities and advantages they are given. Not only are the first generation Muslims not working because of old age (they have no mastery of the local language), the second and third generations refuse to socialise and are not ready to be among the Danes who are majority Lutheran. It is not fiction to say that many young Muslims in Denmark are lazy to learn, aspire only to sleep with Danish girls, and only Muslim girls seem to be capable, diligent and successful in school. They go to university and eventually marry the young Muslim men who are good for nothing, and did not even finish high school. As the wife is more educated, there will be problems of the wife working while the husband concentrates in the mosque to become "good Salafis". Domestic crises will erupt frequently, divorce rates will skyrocket, children will be caught across cultures, thus the same cycle continues among Muslims with no end. There is no will to change. The Flourishing of Islam
Doudou Diene, special rapporteur of the UNCHR felt that the publication of the Prophet's cartoons was rooted in racism, racial discrimination, xenophobia and incompetence by the government of Denmark in conflict management. But introspection among the Muslims themselves is needed more than the comments favouring such. Indeed, Islam is flourishing in Scandinavia. In Sweden for example, empathy for the Muslims is growing, albeit slowly. If the laws in Scandinavia seem to interfere with Islamic traditions, such as prohibitions against circumcision, the veil, or parenting, then there must be something wrong with the practitioners themselves and the real story is hidden or exaggerated in the media. This is because civil rights for people like Mads Kjoergard is very high. They verily testify, that I, he and you are humans first, and identity (whether religious, gender, or sexual preference) is of a secondary nature. This allows them to see people as people, and not as Muslims or Hindus or Lutherans, they see "human first" not because of the colour of their skin and hair, nor their place of origin. But of course there are pre-conditions, Mads has to sacrifice a little of himself to tolerate and accept the Muslims who are very strange, but why don't Muslims want to do the same so there is peace between them? Why do Muslims in Denmark have to act like heaven is only theirs? As Mads Kjoergard says, Muslims have to be responsible and sane, and they need to accept the reality that they now live in a new environment. That morning Mads embraced me tightly. Feeling his heart beat against mine. His eyes grew watery. Perhaps it was the cold gust of wind in his beautiful eyes. Maybe he was really sad because God knows when we'll meet again. He whispered to me, "Don't lose, do not get killed… we want to change the world." Mads took a package out from his bag and handed it to me. "What's this?" "A present." He replied briefly. As I sank in the chair at coach 72, staring at Mads out the window, there is a deep sense of melancholy. The world can be so crazy out there. But we're just a pair of really sane friends. A Muslim, and a Lutheran; human. As the train passed by the large windmills and villages that have started to snow on the way to Copenhagen, I unwrapped the gift from Mads; a Quran with Danish translation. I gazed outside. The skies were dark and murky. A seagull swoops from the lowlands. There is a river whose flow runs frozen. There's a tear when sobs are broken.
]]>