<![CDATA[Aliran and Islamic Renaissance Front (IRF), in collaboration with Southeast Asian Centre for e-Media (Seacem), organised an Anti-Racism workshop on 15 Sept. The workshop was part of the activity for the Penang Local Democracy Festival. About 40 people, some representing NGOs turned up for the workshop, which was held at Aliran office, Penang.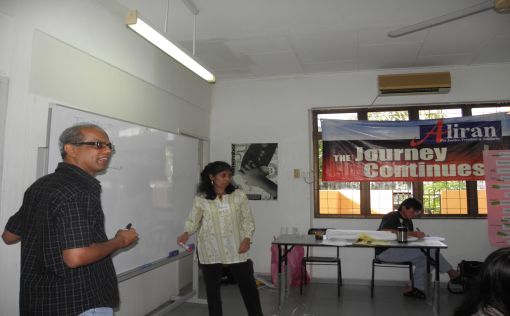 Dr Prema Devaraj, from Aliran began the workshop with an interesting interactive game to show how people were segregated. This was followed by a fun way of 'putting labels' on people based on their nationality was carried out by the participants in three groups (see picture above).
Anil Netto, also from Aliran, then took over to facilitate the session on 'Examples of impact of racism – personal experiences'. The participants, in groups, were told to write down any experiences of racism that they encountered throughout their lives. Later on, they shared on how had these experiences impact their lives. Many felt that they became disheartened and angry, and one even said that because of the racism and stereotype, it made her reluctant to associate with lots of people.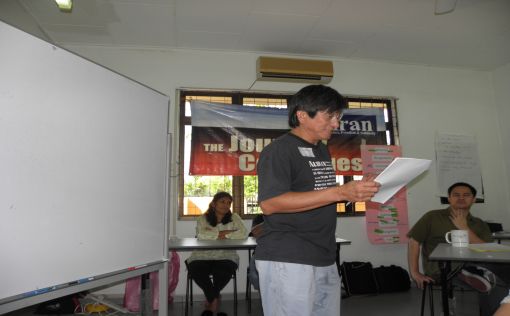 The 'Changes and continuities in race relations' were explored by Dr Francis Loh, from Aliran.  It was an in-depth look into whether ethnic relationship has worsen or improved.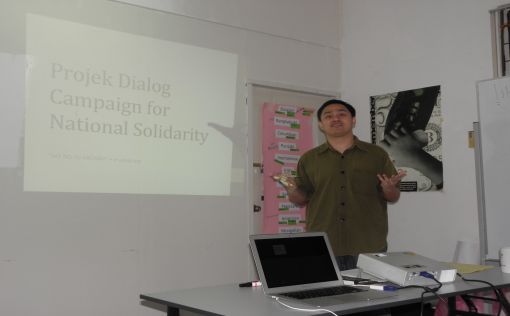 Ahmad Fuad Rahmat from IRF, before introducing the participants to a campaign against racism, known as 'Projek Dialog', presented a clear and concise picture of existing Islamist groups such as PERKASA, PEMBELA, HAKIM, TERAS, ISMA, JATI, ABIM, IRF, ARQAM, SUARA. When these NGOs were formed and their composition, objectives, vision, activities, campaign were explained briefly. He then introduced the participants to P
rojek Dialog,
 a project which is a joint effort among several organizations and individuals who are committed to the progressive development of social issues in Malaysia. Among the organizations in partnership with Projek Dialog, are IRF, Seacem and Kota-Kita. Projek Dialog's tagline is "Say no to racism" and it is a social development project that aims to promote healthy debate and understanding, within and among the diverse cultural, ethnic and religious groups in Malaysia.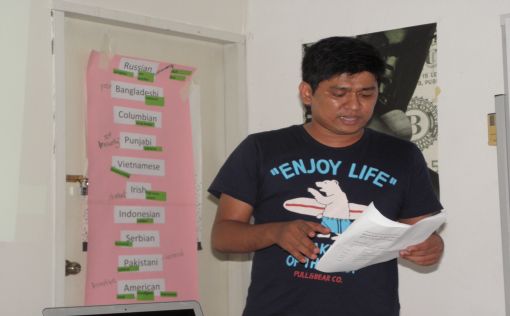 Nantha from Seacem then explained further about Projek Dialog. He informed that Projek Dialog use social media platforms such as Facebook,  Twitter, blogs, websites to reach out to the online community. As such, participants were told that Seacem is willing to organize a workshop on how to use social media to put across Projek Dialog's aim of saying no to racism. All participants expressed interest and they look forward to the announcement of such a workshop.
]]>